Last Updated on 21 August 2023 by Nicholas Lim
---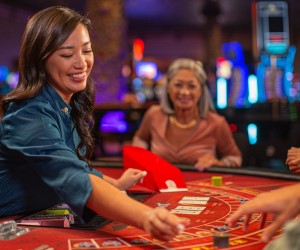 The Philippine casino industry is on track to reach impressive milestones in 2023. Forecasts suggest the sector might generate a gross gaming revenue (GGR) between US$5.2 billion and US$5.9 billion. If these projections are accurate, this would represent a growth of at least 10% compared to the pre-pandemic figures of 2019. Which stood at US$4.84 billion.
Statistics highlights
Philippine casino venues are predicted to gross between US$3.6 billion and US$4.0 billion in 2023.
Cebu is expected to generate between US$70 million and US$90 million GGR in 2023.
Philippines' casino market could touch US$10 billion in annual GGR, by 2027.
Revenue Breakdown and Major Contributors
GGR figures encompass the whole gaming industry, covering not only casinos but also non-casino bingo halls, electronic game parlors, state-operated casinos and commercial establishments in key areas like: Entertainment City Manila, Clark, Cebu and other locations.
The lion's share of the projected GGR is expected to come from Entertainment City venues. These venues alone are predicted to contribute between US$3.6 billion and US$4.0 billion in 2023. As of the second quarter of 2021, they produced 76.8% of the industry's GGR, translating to PHP43.47 billion (US$769.5 million), a 17.5% year-over-year increase.
However, a 4.3% quarter-on-quarter decline was noted by GCG Gaming Advisory Services, pointing out that the primary market appears to be local. They suggested that the US$2.4 billion expenditure by local players over two quarters might be reaching its saturation point.
Upcoming Ventures and Potential Growth
With the proposed opening of a new casino hotel in the Westside City project in Entertainment City by the fourth quarter of 2024. The market is expected to welcome even more players. This addition will be strategically located amidst prominent Manila casinos like: the City of Dreams Manila, Solaire Resort and Casino and Okada Manila.
GCG Gaming Advisory Services also highlighted the unique offerings of Newport World Resorts near Manila International Airport. Although it might seem disconnected compared to other central commercial resorts, it boasts an array of hotel brands. Additionally, it features a new casino floor adjacent to renowned hotel chains like Sheraton and Hilton.
Key Players in Luzon's Casino Market
Turning our attention to Luzon, the commercial casino scene in the Clark Freeport Zone is projected to represent a market worth US$600 million to US$700 million in 2023. This zone boasts a rich mix of casino resorts such as Royce Hotel and Casino, Hann Casino Resort and others. Among them, Hann, D'Heights and Royce are estimated to command about 75% of this projected market. Competing establishments like: Fontana, Casino Plus and Midori are also undergoing expansions and renovations to up their game.
Cebu's Growing Casino Scene
In Cebu, the commercial casino sector, which features the NUSTAR Resort and Casino, is expected to generate between US$70 million and US$90 million GGR in 2023.
The Future Beyond 2023
Looking further ahead, GCG Gaming Advisory Services retains its prediction that by 2027, the Philippines' casino market could potentially touch US$10 billion in annual GGR. This is notably higher than the starting estimate of US$8 billion for 2028, as mentioned by Alejandro Tengco, the CEO of Pagcor.
In conclusion, the Philippine casino industry is poised for growth, with projections promising a bullish trend for the coming years. The sector is continuously evolving, with expansions, renovations and new ventures all aimed at capitalizing on the burgeoning market.