Last Updated on 7 July 2020 by Nicholas Lim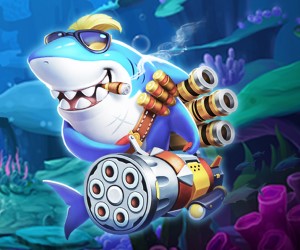 For as long as we can remember people around the world have been enjoying a variety of gambling related games, whether skill-based or luck-based. Games like poker, blackjack, roulette, slot machines and many more have been around for decades and even centuries. In the last 20 years technology has continued to improve allowing us to have new and exciting gambling experiences. We've even managed to create these experiences on the go as you can now enjoy online gambling directly from your phone or tablet devices. Some of the newer and more exciting games to be released in the last few years are fishing games.
While some fishing games are simply new takes on existing games like fishing themed slot machines other games are taking this idea in a whole new direction. Some of the more interesting games are fish hunting games. They combine the excitement of arcade shooters with the thrill of gambling and winning coins and prizes. If you're looking to try an all new type of game where you can win cash and prizes, then fishing games might be just right for you. Read on to learn more about these new types of games.
History of Fish Hunting Games
Fish hunting games have been around now for many years at local arcades around the world. First appearing in Asia in the early 2000's the game became very popular among locals and tourists alike. These huge arcade machines would allow between 4 and 8 people to play at the same time. Over the years the game grew in popularity and can now be found in arcades and gambling shops around the world. You can also find fishing games at land-based casinos.
Eventually these games made their way into online casinos. This was around the time casinos began looking for new and exciting games to add to their ever-growing selection of games. As mobile phones and tablets continue to improve, and technology gets better these games can now be played on the go as well.
How these Game are Played
Although these games are considered gambling games as you can win cash and prizes, fish hunting games are more closely related to action shooters. At first glance you might think these games are more suited for consoles like the PlayStation or Xbox. Fish hunting games combine the excitement and action of shooter games with the thrill of betting and winning. Whether you choose to play these games at a local gambling spot or online the games play almost exactly the same.
In order to get started you will need to deposit the amount of money you wish to play with. The next step is to select an amount you wish to spend per shoot. There are usually 3 options to choose from. For example, bet 1-9, 10-90 or 100-1000. Each range will allow you to shoot more bullets by giving 1, 2 or 3 cannons to fire at the same time. Remember each shot you take will deduct the same amount you selected to bet from your total balance.
There are usually a large selection of different fish and even special creatures like dragons to shoot at. Each fish you kill will have a different coin value. There are also special bonus items like bombs that will add special effects and increase your multipliers. Creatures and bonus items with high coin and multiplier value will be harder to kill and require you use more shots.
The Goal of the Game
The point of fish hunting games is to shoot and kill as many fish, creatures and bonus items as you can. You will need to aim your cannon using the joystick and press a button to fire your ammo in order to try and kill as many things as possible. Each item you kill will give you coins and increase your multipliers. The higher the value of the item the more coins and bigger multipliers you will receive. Some games even have bonus mini games and bosses you can face off against to win even more coins. The game continues until you run out of ammo or you decide to cash out your winnings.
Online Fish Hunting Games
In the past few years fish hunting games have increased in popularity. These games can now be played on your computer, mobile device, or tablet. They offer the same features and beautiful graphics you would find playing the arcade version of these games. Many online casinos now offer fish themed and fish hunting games which offer huge prizes and lots of coins.
If you're looking to experience a new type of gambling game or if you're a big fan of shooter games, then fish hunting games might be perfect for you. Select how many cannons you want to fire. Choose the right ammo for job and get ready to blast some fish and get rich.
Play Free Fish Game