Last Updated on 28 January 2021 by Nicholas Lim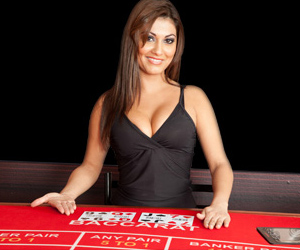 Playing Live Baccarat at Singaporean live casinos is the next bet thing. Few games are able to thrill casino players quite as much as the quintessential crème de la crème of card games – Baccarat. Gaming enthusiasts swear by this game, and with good reason. Otherwise known as Punto Banco, Baccarat is reserved for the high-rollers.
The game has a long and rich history, which spans back to France and Italy. The royalty of these countries claimed this exciting game as their very own, but a game of such promise could not be kept away from the masses. Today Baccarat is played and enjoyed the world over. The introduction of live Baccarat means that eligible players from all corners of the globe can experience this fantastic casino card game from the comforts of home
How to Play Live Baccarat?
Fortunately, this is one of the easier card games to play. Typically the game is played with several casino dealers and between 12 and 14 players. The principal bets include bets on the Player or bets on the Banker, known in the literature as Punto or Banco, hence the name Punto Banco.
Live Baccarat is hosted by a gorgeous live casino dealer at a secure gaming location, via webcam. And it doesn't much matter whether you bet on the Player or the Banker – in fact, you can bet on either. Players are tasked with determining which hand will win: Punto, Banco, or perhaps even a Tie. The payoff is typically even money, but bets on Banco (banker) incur a commission.
The objective of the game is simple: get as close to 9 as possible. Note that you cannot bust out in games of live Baccarat. Unlike in games of live Blackjack, any total over 9 automatically gets the tens digit subtracted from the tally. So, a hand total of 9 + 7 is actually a value of 6 in Baccarat. The live Baccarat dealer will typically use 6 – 8 decks of cards to deal from. Should either the Player or the Banker hand hit a total of 8 or 9, then it is called in Natural and no more cards are dealt in this live casino game.
Experience Live Baccarat
The fundamental difference between playing Baccarat in a Singaporean live casino format and in regular online casino format, is that players get to interact directly with gorgeous dealers, in real time. This certainly ramps up the action and excitement and encourages players to get in on the action.
Further the fact that all the outcomes are determined by Lady Luck and not random number generators (RNGs) encourages players to opt for this version of the game. In order to get started, all that is required is a registration, a real-money gaming account and a quick download of the live dealer software. Players can enjoy payouts of 8 to 1 on Ties, a house edge of 1.36% on the Player and a house advantage of 1.17% on the Banker.
The concept behind the live game
One of the most fascinating games in any casino is live baccarat. You see it in every movie that featured high roller gambling and it always has that mystique of being played in a private area with thousands and thousands of dollars at risk on every bet. You are not alone if you wished for one second that you could be the one sitting up at that table and pushing those chips around.
The other obstacle in going to the casino is the sheer cost of it. Unless you have one in your backyard, you can often spend well over SGD200 for an overnight trip, and that is a conservative estimate. Now for a small player, this is a lot of money and makes it tough to justify a trip, especially with the shape of the world's economy. Furthermore, the limits at the live baccarat tables are often well out of our price brackets.
Luckily for all of us, there is finally a solution and it is live baccarat that is offered via online casinos. In addition to brining the casino experience into your home, you will also have the benefit of playing at much lower levels. You may even find that the money that you would have wasted on just the trip is enough to give you a full bankroll online.
Is it safe to play?
Now a lot of people in Singapore have been wary of playing at online casinos in the past as they were worried about the effects of the random number generators. With live baccarat, this is no longer an issue. You are actually playing via a live feed from a casino and are playing against the same hands that anyone else at the casino table is playing against. This adds a whole new aspect to online gaming that has never been available to the small player before.
Once you sit down at the table, you are going to be amazed at how easy the game is and how addictive it actually becomes. There is nothing more gratifying that spotting that one trend that allows you to double or triple your bankroll in a matter of minutes. The best part is that when you win SGD200, it is not going to pay off your trip, but directly into your pocket as a profit.
Conclusion
When you are looking for the rush of baccarat and don't want to worry about having to stick to the limits of a live baccarat table at a normal casino, you need to get your computer fired up and play live baccarat online. You get everything the casino has to offer except the cost and the high table limits. Now you can learn the game from the comfort of your own home and actually use the bonus money from your first deposit as a way to figure out the game. By the time you get the hang of it, you will be ready to play at higher levels and get that bankroll up to a level that would make any casino player jealous.