Last Updated on 25 August 2021 by Nicholas Lim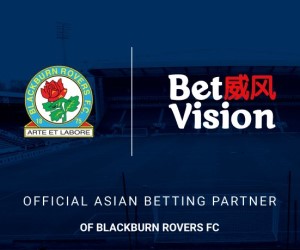 A historic milestone has once again happened for BetVision, Asia's top gaming destination. It is now officially the Asian Betting Partner of Blackburn Rovers, one of the oldest and prestigious football clubs in England, with a fanbase that spans the entire globe.
As one of the leading, fastest growing and most trusted sports betting and entertainment brands in the world, BetVision's ideals are totally in line with the Blackburn Rovers football club's pursuit of excellence.
Also present at the partnership launch was BetVision Brand Ambassador and England football legend Emile Heskey. During the event, Rovers Chief Executive Steve Waggott has noted BetVision's "commitment, professionalism and vision," which are key traits that have strongly contributed to the club partnering with BetVision.
Quick Facts About Blackburn Rovers
Blackburn Rovers FC was founded in 1875 and is one of the founding members of the Football League (1888). They were also one of the original members of the Premier League in 1992, which replaced the First Division to become the country's top-flight League.
Their logo features a rose, which is surrounded by their motto:  Arte et Labore (in Latin, "By Skill and Hard Work").
Rovers have been crowned champions of England thrice (1911-12, 1913-14 and 1994-95). Their most recent victory in the Premier League in the 1994-95 season came under legendary manager and football figure Kenny Dalglish, and was led by the incredible Alan Shearer-Chris Sutton partnership. They have also won a total of six FA Cups overall. Another major trophy in their case was the Football League Cup in 2002, under the leadership of Graeme Souness.
Currently, they play in the EFL Championship league, with Tony Mowbray as their manager. Their blue and white home kits are one of the most unique designs in the league. For the 2021-22 season, they have alternate kits in red and black and boast a similar design as of that of their home kit.
The Blackburn Rovers Legends
 A handful of the most legendary figures in football have been a part of Blackburn Rovers FC history. Here are just some of the best ever to play for the Blue and Whites:
 Allan Shearer
Chris Sutton
Simon Garner
Damien Duff
 Today's Star Players
Continuing in the legendary tradition of past Rovers, here are the exciting new crop of players that are going to lead the club in the years to come:
Ben Brereton Diaz – 22 years old, striker, also a member of the Chile National Team.
Bradley Dack – 27 years old, midfielder, 122 appearance and 45 goals for Blackburn
Ian Poveda – 21 years old, winger, on loan from Leeds United, former England youth.
Thomas Kaminski – 28 years old, goalkeeper, Belgium youth player
It's going to be one fantastic year ahead for sure, as Blackburn Rovers and BetVision are expected to work on numerous campaign activations across key territories. We look forward to a fruitful partnership ahead, as we try to bring gaming and winning even closer to you!