Last Updated on 7 August 2023 by Nicholas Lim
---
Are you someone who enjoys the fluttering excitement of gambling and revels in the thrills of travel? If so, this guide, aimed at blending these passions, is tailored for you. Here, we take you on a virtual tour of the top 6 gambling vacation destinations worldwide, featuring a blend of high stakes, grandeur, cultures, cuisines, and unique experiences that make each of these destinations the dream of every passionate gambler.
Introduction to Gambling Vacation Destinations
When vacationing comes to mind, perhaps you imagine a tranquil beach, a serene mountain landscape, or exploring new cultures and cuisines. But have you considered a holiday that combines your adventurous spirit with a chance to try your luck in some of the world's most celebrated casinos? One where you can enjoy world-class entertainment, delectable dining options, and opulent accommodations, all while basking in the adrenaline rush that only a winning streak can offer.
While the pandemic might have turned many gamblers to online platforms, the allure of an actual casino's shimmering lights, the clattering sound of coins, and the thrill of the crowd cannot be replicated virtually. Whether you are a seasoned player or just a tourist looking for an exciting way to spend your evening, a gambling vacation might be the adventure you're seeking. In this guide, we'll uncover the best destinations that offer a perfect blend of gaming excitement and vacation relaxation.
Las Vegas, USA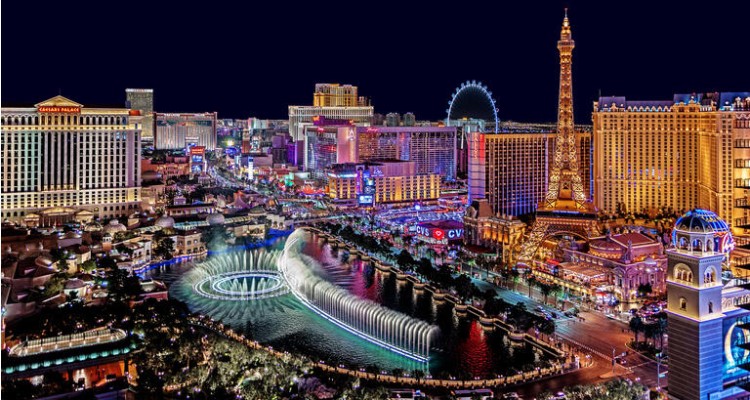 What Makes Las Vegas Stand Out
First on our list is the vibrant city of Las Vegas, an oasis of lights and thrill in the heart of Nevada's Mojave Desert. Known worldwide as the "Gambling Capital of the World," Las Vegas is where your wildest dreams can come true. The cityscape, dominated by elaborate and brightly-lit casinos, is a testament to the city's devotion to providing an unforgettable gambling experience.
It's not just about gambling here, though. The city is a concoction of luxury, nightlife, entertainment, and shopping experiences. The Strip, an approximately 4.2-mile long stretch, is home to many of the city's biggest attractions. With awe-inspiring architecture and endless entertainment options, walking down the Strip itself can be a thrilling experience.
Best Casinos in Las Vegas
Las Vegas hosts a wealth of casinos, each offering its unique flavor of gambling experience. The Bellagio, known worldwide for its elegance and the dancing fountains that adorn its exterior, houses one of the city's most renowned poker rooms. The high-stakes games it offers have attracted poker enthusiasts and professionals from around the globe, earning it the nickname "the Office."
The Venetian, another icon of the Strip, is known for replicating Venice's romantic ambiance, complete with gondola rides on canals running through the casino. Its colossal 120,000 square feet gaming floor features a vast selection of games for every type of player.
Caesars Palace, a testament to Las Vegas's penchant for extravagance, is a must-visit. From its dramatic Roman-themed architecture to the extensive gaming floor filled with a diverse range of games, Caesars Palace offers a royal gambling experience.
Lastly, if you're looking for an off-Strip experience, Fremont Street, known as "old Vegas," is the place to be. The Golden Nugget, one of the city's most historic casinos, resides here and offers a nostalgic trip down memory lane, complemented by a comprehensive gambling experience.
Singapore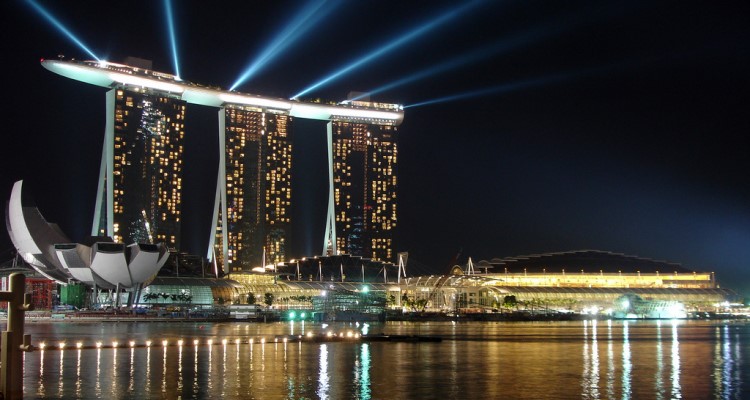 Why Singapore is a Must-Visit Gambling Destination
Before we dive into the conventional gambling hotspots, let's take a detour to Asia's Lion City, Singapore. This city-state, renowned for its striking skyline, has steadily risen in the ranks of top gambling destinations since it legalized gambling in 2005. With two sprawling integrated resorts, Marina Bay Sands and Resorts World Sentosa, Singapore casinos offers an incredible mix of gaming, tourism, and luxury.
Singapore isn't all about the casinos, though. It's a city that entices with a vibrant mix of culture, food, entertainment, and sightseeing options. From the breathtaking Gardens by the Bay to the shopping paradise of Orchard Road, and the cultural tapestry of Chinatown and Little India, Singapore offers an all-round holiday experience.
Best Casinos in Singapore
Marina Bay Sands, with its iconic architecture, is a must-visit landmark in Singapore. This massive resort houses a two-floor casino offering a range of games, from poker and baccarat to a wide variety of slot machines. Apart from the games, the resort offers a stunning infinity pool, a shopping mall, and several dining options.
Resorts World Sentosa, another integrated resort, offers a universal studio, marine life park, and a casino. The casino has a wide range of gaming options, with over 2,400 slots and 500 gaming tables. The resort offers something for every member of the family, making it a perfect gambling vacation spot.
And, if you're a poker enthusiast, you're in luck. Both these casinos host regular poker tournaments that attract players from around the world.
After Singapore, let's get back to our originally scheduled tour and head towards the West, to a city that twinkles with neon lights and pulsates with the thrill of gaming.
Macau, China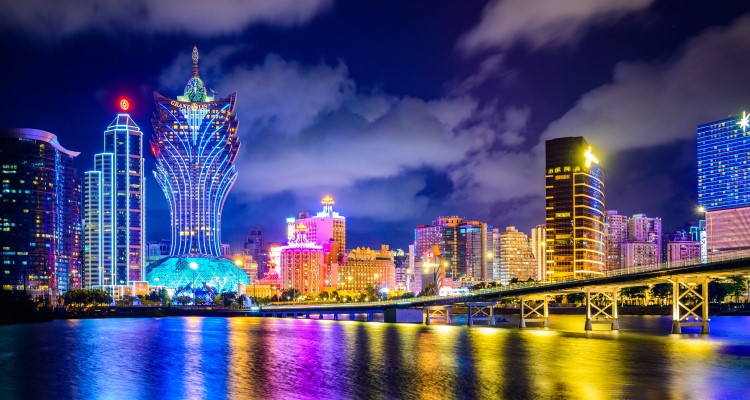 Why Macau is a Gambling Paradise
Next on our list is the "Las Vegas of the East" – Macau. Nestled on the South Coast of China, this autonomous region has become Asia's premier gambling destination. Its rise as a gambling hotspot can be traced back to the mid-19th century when the Portuguese government legalized gambling in the colony. Today, it is home to some of the world's most lavish casinos.
But Macau is not just about the casinos. The city's Portuguese-Chinese cultural blend is visible in its architecture, food, and overall lifestyle, offering a unique cultural exploration. UNESCO has recognized the Historic Centre of Macau as a World Heritage Site, emphasizing the city's rich cultural significance.
Top Casinos in Macau
Macau houses several luxurious casinos that rival those in Las Vegas. Dominating the city's skyline, the Venetian Macao, an ode to its Las Vegas sister resort, is the largest casino in the world. With a gaming space spreading over 546,000 square feet, it offers an exhaustive selection of games that cater to everyone from the casual gambler to the high roller.
Next, we have the City of Dreams, a one-stop destination for all things entertainment. Apart from its extensive gaming floor, it is known for its extravagant water-based show, 'The House of Dancing Water.'
Then there's the Wynn Macau, a stunningly elegant resort that brings a touch of Vegas glamour to the heart of Macau. From the enchanting Performance Lake at its entrance to the opulent gaming rooms, the Wynn Macau is a testament to luxury.
The Grand Lisboa, with its distinctive architectural design resembling a lotus flower, is a landmark in itself. It offers an extensive range of gambling options, from traditional table games to a sea of slots, catering to all types of gamblers.
Monte Carlo, Monaco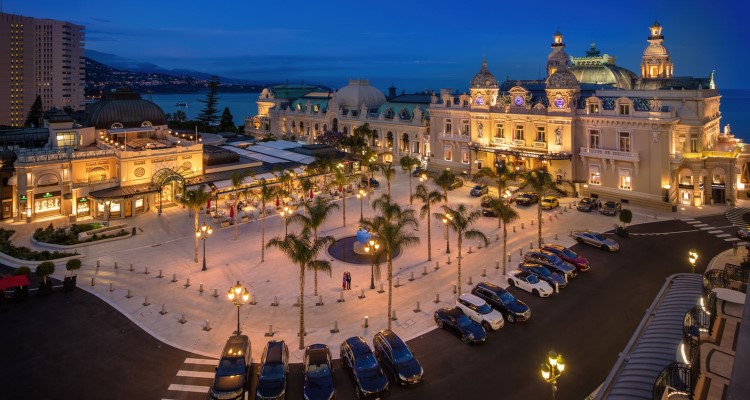 The Luxury of Gambling in Monte Carlo
If you're seeking a blend of glamour, wealth, and serious gaming, Monte Carlo, Monaco's most populous quartier, is your go-to destination. The city's extravagant lifestyle, luxury yachts dotting its harbor, world-class events like the Formula 1 Grand Prix, and of course, its historic casinos, make Monte Carlo a playground for the world's rich and famous.
The city offers a luxurious Mediterranean vacation paired with a world-class gambling experience. Here, you're not just playing; you're gambling amidst European royalty and the international elite, making it a truly unique experience.
Famous Monte Carlo Casinos
The Casino de Monte-Carlo, a true architectural masterpiece, is a symbol of Monaco's wealth and glamour. From its lavish interiors to its selection of high-stakes games, it provides an unparalleled gambling experience.
Sun Casino, another popular gambling spot, offers a lively American-style gaming experience. Known as the most American of all Monte Carlo casinos, it hosts the most exciting games on the French Riviera.
The Monte Carlo Bay Casino, part of the luxurious Monte Carlo Bay Hotel & Resort, offers a modern, laid-back gaming experience. Although it has fewer gaming options compared to others, its beautiful location and sophisticated ambiance make it worth a visit.
Atlantic City, USA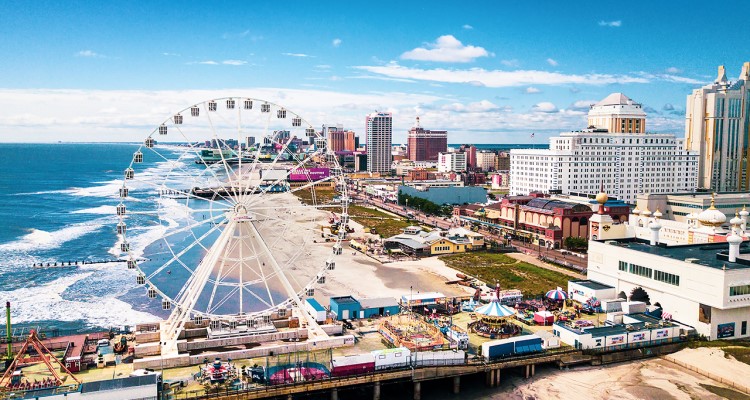 Atlantic City: The Gambling Gem on the East Coast
Though often overshadowed by Las Vegas, Atlantic City, affectionately known as "America's Playground," holds its ground as one of the top gambling vacation destinations. Located on New Jersey's Atlantic coast, the city boasts a beautiful boardwalk, beach, and of course, a myriad of casinos.
Its gaming scene began in 1976 when New Jersey voters approved a referendum legalizing gambling within Atlantic City limits, effectively offering an East Coast alternative to Las Vegas. The city now stands as a regional gambling hub, offering visitors an exciting vacation experience with its blend of casinos, entertainment, and ocean views.
Atlantic City's Top Casinos
Borgata Hotel Casino and Spa is a name that resonates with every Atlantic City visitor. Known as the most profitable casino in Atlantic City, Borgata offers an extensive gaming floor featuring a wide range of games.
The Hard Rock Hotel Casino, another major player in Atlantic City, is a paradise for music and gambling lovers alike. Here, you can try your luck in the casino and enjoy a world-class entertainment experience, featuring live shows and concerts.
The Golden Nugget, an iconic name in the gambling world, offers a mix of traditional and modern casino games. Its Marina location gives it a unique charm, and its excellent service ensures a great gambling experience.
The Resorts Casino Hotel, the first legal casino outside of Nevada, offers a blend of rich history and modern gaming. It's not as big as some of its counterparts, but the intimate gaming experience it provides makes it a must-visit.
London, UK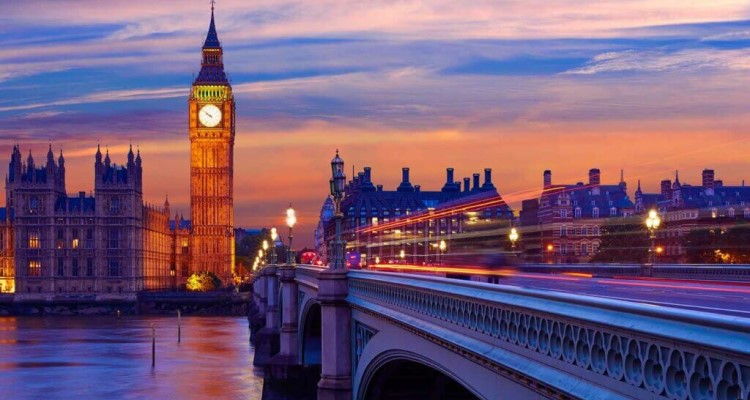 London: A Sophisticated Gambling Destination
The final destination on our list takes us to the heart of the United Kingdom. London, known for its rich history and cultural diversity, is also a hotspot for gambling enthusiasts. From high-end gambling clubs to state-of-the-art casinos, the city offers a diverse range of gambling venues.
Though the city might not immediately spring to mind when thinking of gambling destinations, London has a vibrant gambling scene. Its casinos reflect the city's sophistication, offering an elegant and refined gambling experience.
Finest Casinos in London
The Hippodrome Casino, located in the city's bustling West End, is one of London's most iconic casinos. This historic building has been transformed into a multi-floor casino offering a broad range of games, from poker and blackjack to a wealth of slot machines.
Aspers Casino in Stratford is another excellent choice for gamblers. As the UK's largest casino, it offers an extensive range of games on its gaming floor. The casino also boasts several bars and restaurants, enhancing the overall visitor experience.
The Casino at the Empire, located in Leicester Square, is one of the busiest casinos in London. The Vegas-style casino offers a broad range of gaming options and is known for hosting poker tournaments regularly.
Conclusion
Each of these gambling vacation destinations offers a unique blend of gambling excitement and cultural experiences. Whether it's the electric atmosphere of Las Vegas, the Eastern charm of Macau, the opulence of Monte Carlo, the lively spirit of Atlantic City, or the sophistication of London, there's a destination for every gambler's taste. So, why not plan your next holiday with a touch of adventure and the spin of a roulette wheel?
Travel expands our horizons and teaches us about the world. When combined with the thrill of gambling, it creates an unmatched experience. As we continue to recover from the impact of the pandemic, these destinations are reopening their doors and ready to provide an escape full of excitement and potential good fortune.
Whether you're a high roller seeking high stakes action, a casual player, or a curious tourist looking to experience the glamour and thrill of a casino, a gambling vacation could be the perfect fit for you. Remember, responsible gambling is crucial – know your limits, and the primary purpose is to have fun.
So, ready to roll the dice and see where it lands? The world of gambling vacation destinations is waiting to be explored. May lady luck be with you on your next adventure!