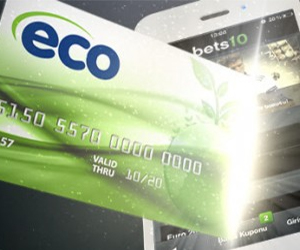 Deposit and withdraw money from your Singaporean online casino without worrying about your security. With ecoPayz the award-winning global payment solutions provider. This is a prepaid virtual debit card which does not require banking information and a fully developed network of major banks across Europe and Asia with branch representations all the world. It a safe solution for the online transactions. Speсial bonus programs are available.
EcoPayz are experts in digital wallets and card based payment solutions since 2000 with PCI regulated products for consumers and businesses. EcoPayz available in 45 currencies including Singapore and supports 10 languages. Your account will be complying with the latest security solutions to provide you with a fast and secure payment system.
Consumers make safe and low-cost global money transfers from one online account. The service is free and easy to open. You don't need a bank account and ecoPayz don't run a credit check, just top it up your way. You can easily use your eco account or prepaid cards to deposit to online casinos or pay in millions of locations worldwide instantly and safely.
Singaporean online casinos instantly accept payments from individuals from Singapore and around the globe.
Deposit to ecoPayz
There are three kinds of deposits for ecoPayz.
Credit card deposit (2.9% deposit fee)
Bank transfer deposit (no deposit fee)
Alternative currency (bitcoin) deposit (no deposit fee)
Credit card deposit
Before using this method, you will need to register your credit card.
Choose which credit card to used for deposit. If you have only one card registered with ecoPayz, skip this step.
In the following page, input the amount you want to deposit and security code, then click "CONTINUE".
The maximum amount for the first deposit is 223.25 USD. When you become a Silver member, you can raise the maximum amount of deposit.
Confirmation page shows up. 2.9% deposit fee will be taken from your account.
You will receive a confirmation e-mail to your e-mail address. You need identification before withdrawing money, so please proceed to ecoPayz identification process.
Bank transfer deposit
Bank transfer has no deposit fee, but taks 2 to 5 days to transfer.
Please select international bank transfer after log in.
Then, following page shows up.
when you choose account and currency, please click "CONTINUE". Following page shows up.
 ecoPayz guarantees
Fast, safe and price-competitive transaction processing.
100% transaction authorization and 0% operational risk.
No discrimination whatsoever. Everyone can apply.
Total confidentiality for all online dealings.
ecoPayz advantages
Fast and simple sign up process.
EcoCard guarantees its clients with privacy and safety.
Deposits are instant. Fast system for the different dealings.
EcoCard account is integrated with an account history tracker and real-time account information.
Can be applied in a wide range of online casinos.
For everyone operating in the global online world and utilizing money, this is the ideal method. ecoPayz offers a wide array of different convenient options as well as involved banks and online merchants for members' convenience and when it comes to security and privacy, ecoPayz uses the high technology to ensure client anonymity too.
Play Singaporean ecoPayz casinos
.