Last Updated on 17 August 2023 by Nicholas Lim
---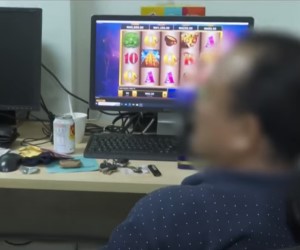 Close to 1,700 people are under investigation for various offenses ranging from online gambling to the possession of prohibited goods. A five-week enforcement Blitz led by Singaporean police saw nightclubs raided as well as the dismantling of an online casino.
Close to 2000 officers from police land division, were deployed in more than 300 anti-crime operations island-wide. One such operation near Byrne Road authorities shut down an illegal online casino. Their gamblers indulged in Virtual jackpot machines and even joined live streamed poker games. Rhe games are based overseas, but the casino employs a bookie to run its operations on site, here via a secret group chat. Gamblers first have to pay the bookie in cash, in exchange for online credits.
At the online casino 6 men between ages of 53 and 62 were arrested for offenses under the gambling Control Act 2022. Over 1,800 in cash and gambling related equipment was seized.
There were also raids on public entertainment outlets near Orchard Road. For this particular Club checks lasted hours.
Singaporean police detained some individuals and they've been processed for valid work permits and for any illegal belongings. One of
them, has actually been flagged for possessing a vaporizers. Across all the outlets raided that night, five people were caught with illegal vaping devices. 10 others were also arrested for offenses relating to employment immigration and being part of unlawful societies.
Teo Yee Lay – Deputy Commander of Tanglin Police Division: "We will continue to sustain the enforcement tempo and work with other agencies on joint operations for maximum effectiveness. Those found engaging in unlawful activities will be dealt with stun"
The enforcement blitz is part of efforts to boost a police presence island-wide. The police urged us that the public remain vigilant and to report any criminal or suspicious activities.